The Bitcoin SV price has surged today, rising to $40.36 and marking a 6% gain in 24 hours as the cryptocurrency market falls by 2.5%.
BSV has also risen by an impressive 31% in the past week and by 33% in the last 30 days, although the altcoin remains down by 2% since the beginning of the year, in contrast to many other major tokens, including Bitcoin (BTC).
And with Bitcoin SV potentially being affected by the news that Christen Ager-Hanssen – the CEO of nChain (which launched and oversees the cryptocurrency) – has resigned from his position and left the company, BSV could come crashing back down to Earth very soon.
Bitcoin SV Price Prediction as BSV Outperforms Bitcoin – Are Whales Now Moving to BSV?
Viewed from a purely technical perspective, BSV looks very strong right now, with its indicators all flashing as if it's in the middle of a proper breakout rally.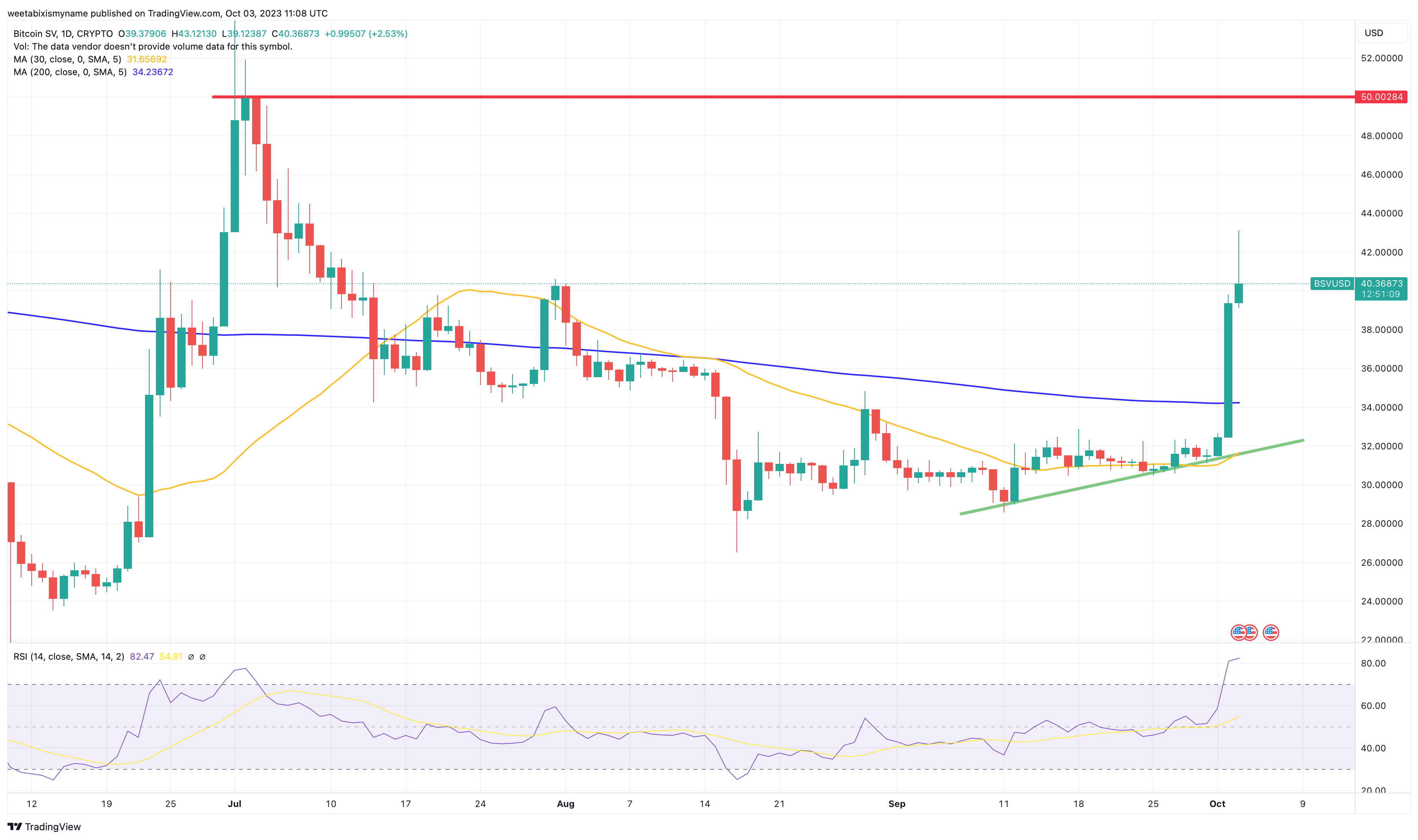 BSV's relative strength index (purple) has shot up to 80 today, having been below 50 only a week ago and having been under 30 around a month and a half ago.
Similarly, the coin's 30-day moving average (yellow) has begun climbing higher and looks on course to pass over its 200-day average (blue), yet this may not happen for several days yet, meaning that the current rally could continue for a while longer.
It's also worth noting that BSV's support level (green) had been rising steadily over the past few weeks, implying that it had consolidated around a new bottom and was ready to begin recovering.
The superficial interpretation of today's surge is that BSV has indeed begun compensating for recent overselling, with some observers perhaps being likely to suggest that the market is beginning to accumulate the coin ahead of its next halving (due in April).
However, it's very curious that today's very noticeable rally has happened so soon after the aforementioned resignation of Christen Ager-Hanssen, who even took to X (formerly Twitter) to suggest that there has been a "conspiracy to defraud nChain shareholders" and that "Dr Craig Wright is NOT Satoshi and I'm persuaded he will lose all his legal battles."
Taking a skeptical view of things, it's tempting to speculate that today's rally is an orchestrated pump aimed at deflecting attention away from Ager-Hanssen's strong claims, or perhaps aimed at boosting BSV's price prior to a dump.
Either way, nChain shareholder Calvin Ayre has suggested Ager-Hanssen's departure is a good thing for the company, with his tweet (below) implying that the market appears to think so too.
Depending on which side you're likely to take, BSV could fall back down again soon enough in the coming days, or it could maintain its momentum and post further rises, possibly rising to $45.
Other Altcoins With Strong Fundamentals
For traders who aren't too sure about Bitcoin SV, there are numerous newer altcoins in the market which are showing good potential for strong gains in the near future.
This includes various presale tokens, which can often rally big after attracting sustained interest from investors and then listing on exchanges for the first time.
One interesting new presale belongs to Bitcoin Minetrix (BTCMTX), a tokenized cloud mining platform that will enable ordinary investors to mine Bitcoin simply by staking its native BTCMTX token.
Already raising more than $370,000 in just over a week, Bitcoin Minetrix's presale is already garnering plenty of interest from investors and the wider cryptocurrency community.
Set to launch in the next couple of months, Bitcoin Minetrix will enable users to stake their Ethereum-based BTCMTX tokens so as to receive tokenized mining credits, which can then be used to access hashpower on the Bitcoin blockchain.
Put differently, staking BTCMTX tokens will result in mining Bitcoin, with stakers rewarded for their contributions in mined BTC.
Given that mining Bitcoin ordinarily requires the possession of some highly specalized equipment (and plenty of eletricity), the ability to stake to mine is likely to help Bitcoin Minetrix attract a very substantial following.
Its native BTCMTX token will have a maximum supply of 4 billion, with 1.4 billion being allocated to the presale.
Retail investors can join the token's presale by going to the official Bitcoin Minetrix website and connecting their wallets, with 1 BTCMTX costing $0.011. 
This price will rise slightly with each successive stage, reaching $0.01190000 by the tenth and final phase.
This gives newcomers only a limited amount of time if they want to buy BTCMTX at the lowest available price, before it lists on exchanges and potentially rallies.
Visit Bitcoin Minetrix Now
Disclaimer: Crypto is a high-risk asset class. This article is provided for informational purposes and does not constitute investment advice. You could lose all of your capital.