Binance Coin (BNB) has been caught in a tumultuous tumble since the SEC launched its lawsuit against the leading exchange's US entity Binance.US on June 5, but double-bottomed support and an uptick in price action could change the trajectory – is it too late to buy Binance coin?
Binance is perhaps the largest player caught up in the Securities and Exchange Commission (SEC) crusade against the crypto industry, and much like the closely-followed Ripple case, proceedings are becoming increasingly complex.
The latest news from the courtroom documents involves an emerging dispute over the 220 documents handed-over by Binance as part of the expedited discovery process; which the SEC allege hasn't been sufficient – alongside alleged problems with access to witnesses.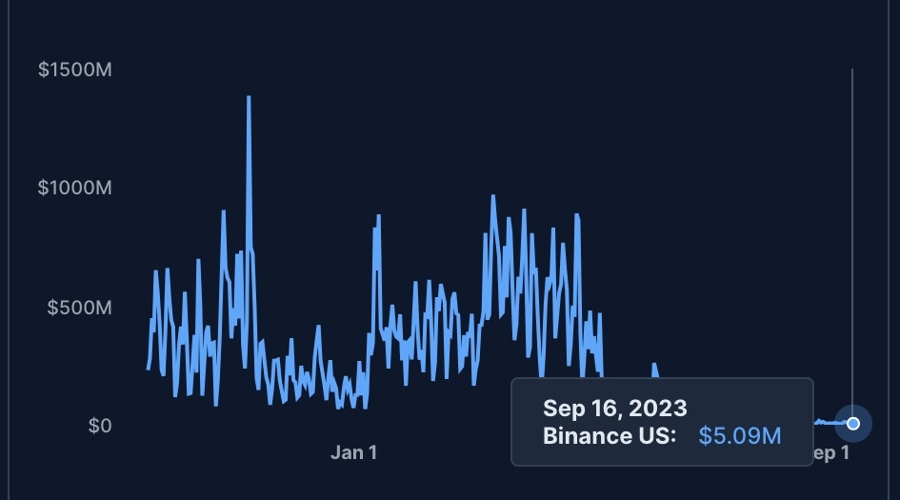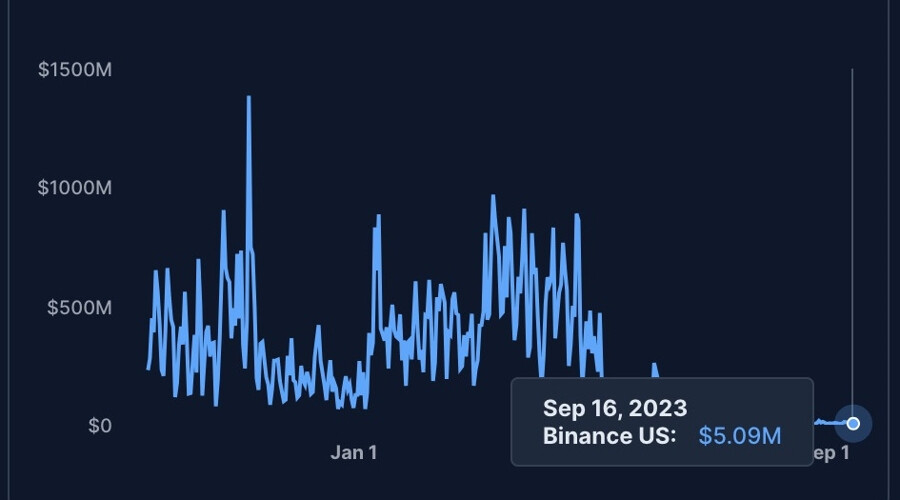 Amid the chaos, Binance.US if facing near rock-bottom trading volume, with just $5.09M in trading volume on September 16 following the suspension of almost 100 trading pairs.
BNB Price Analysis: Is it Too Late to Buy Binance Coin?
As the legal saga unfolds, Binance Coin price action appears to be mounting an attempted come-back, with BNB currently trading at a market price of $218.9 (representing a 24-hour change of +1.11%).
This comes in the aftermath of the -33.3% tumble in the wake of the SEC lawsuit news, which saw price fall from strong support above $300 – with an immediate death-cross down to $225.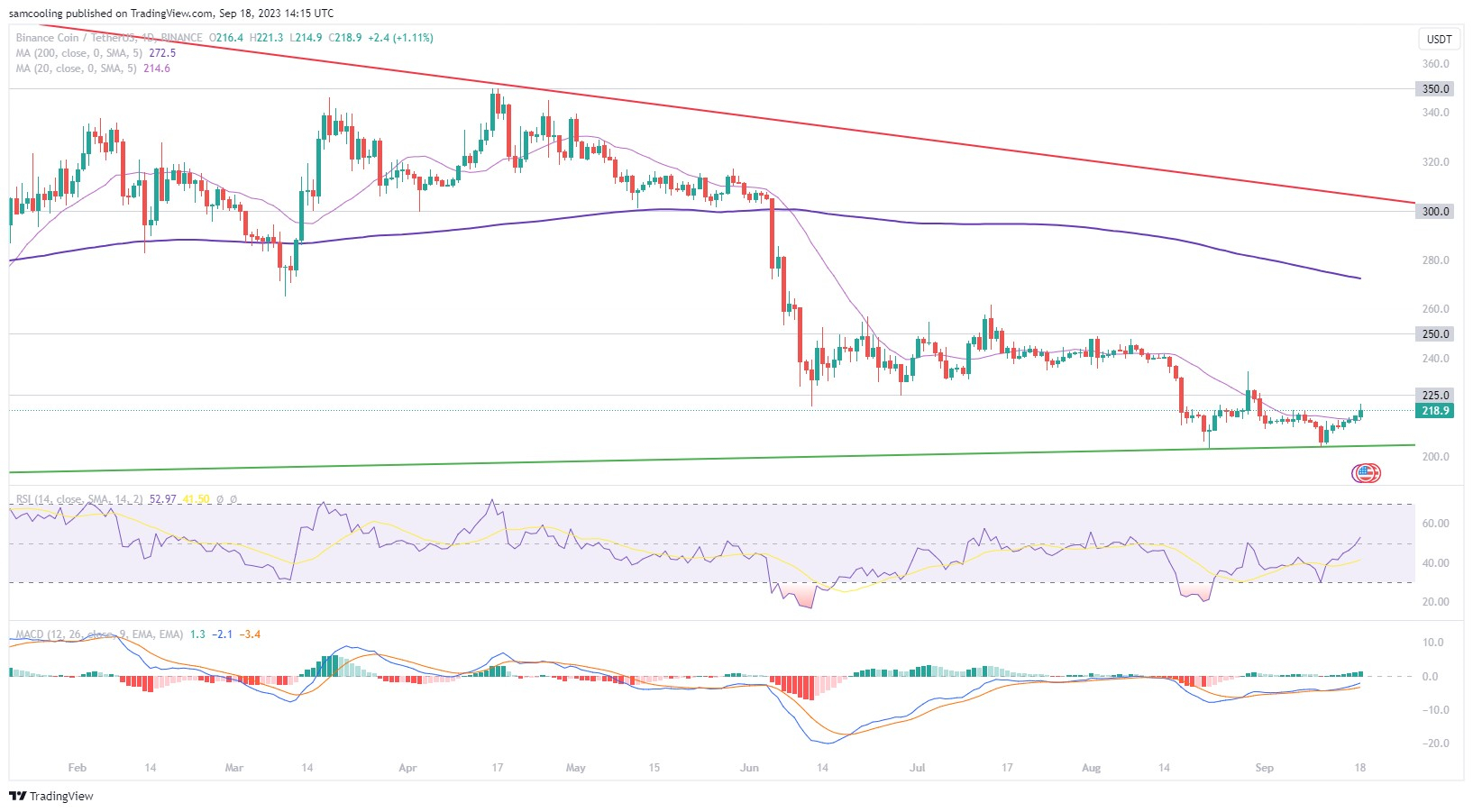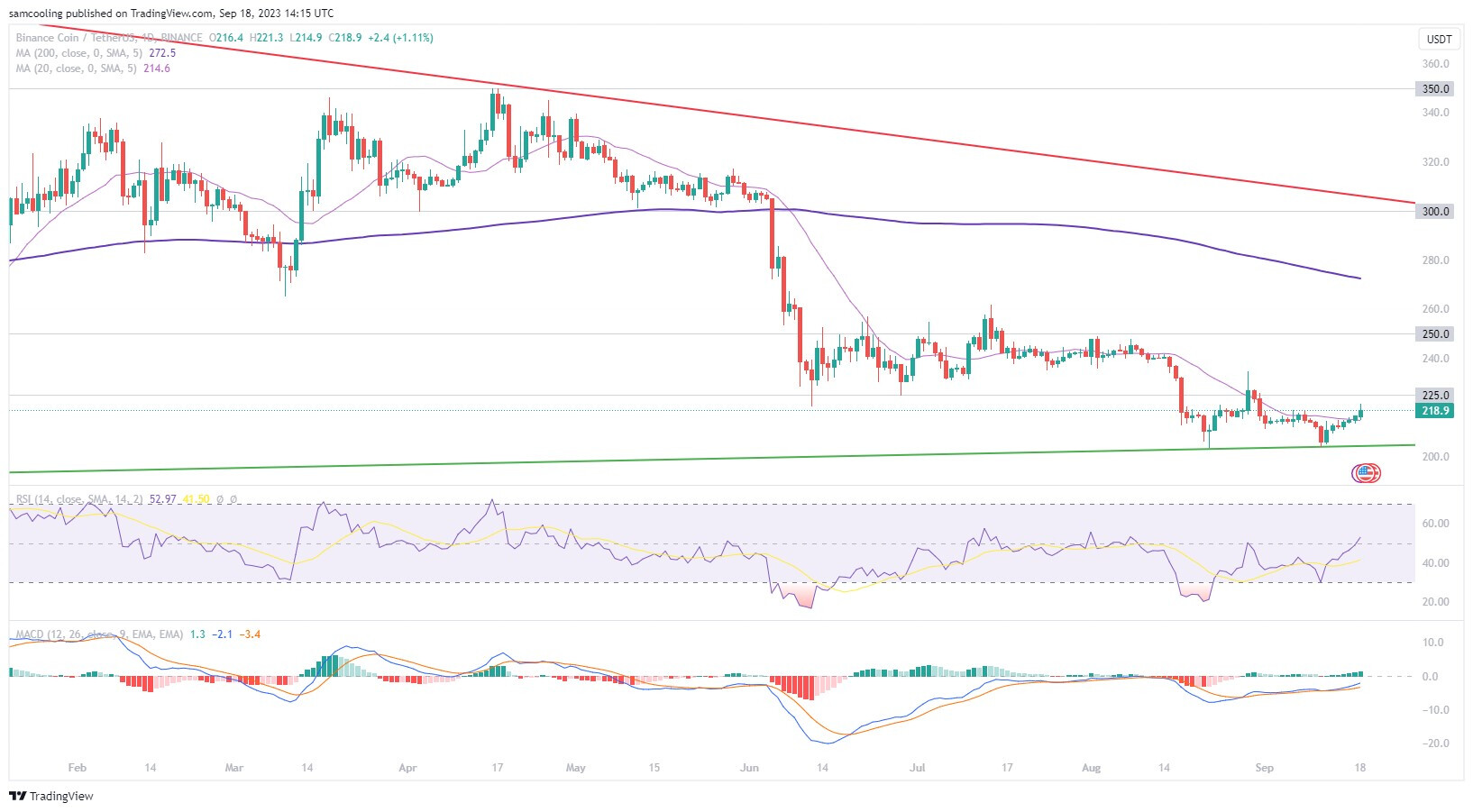 In the three months since, BNB price action has been caught in a tight range between $200-$250, with price closely tracking the 20DMA in a prolonged battle to flip resistance to support.
Yet, technical structure could be improving this week, after the formation of double-bottomed support (August 22 and September 12) poised price action for a +8.46% bounce-off lower trendline support over the past week.
The upside move has been bolstered by a reclamation of the 20DMA – which now forms a strong foothold from which BNB can launch out of the lower trading channel.
But a rising RSI could put things on hold, as the continual upside pressure has heated the indicator up to a neutral signal at 52.81 – potentially signalling consolidation or retracement.
The MACD on the other hand is now showing strong bullish divergence – with the reclaimed 20DMA fuelling the indicator up to 1.2.
Overall, Binance Coin looks strong here, with double-bottomed support, a reclaimed 20DMA, and bullish indicators – even in spite of fundamental headwinds.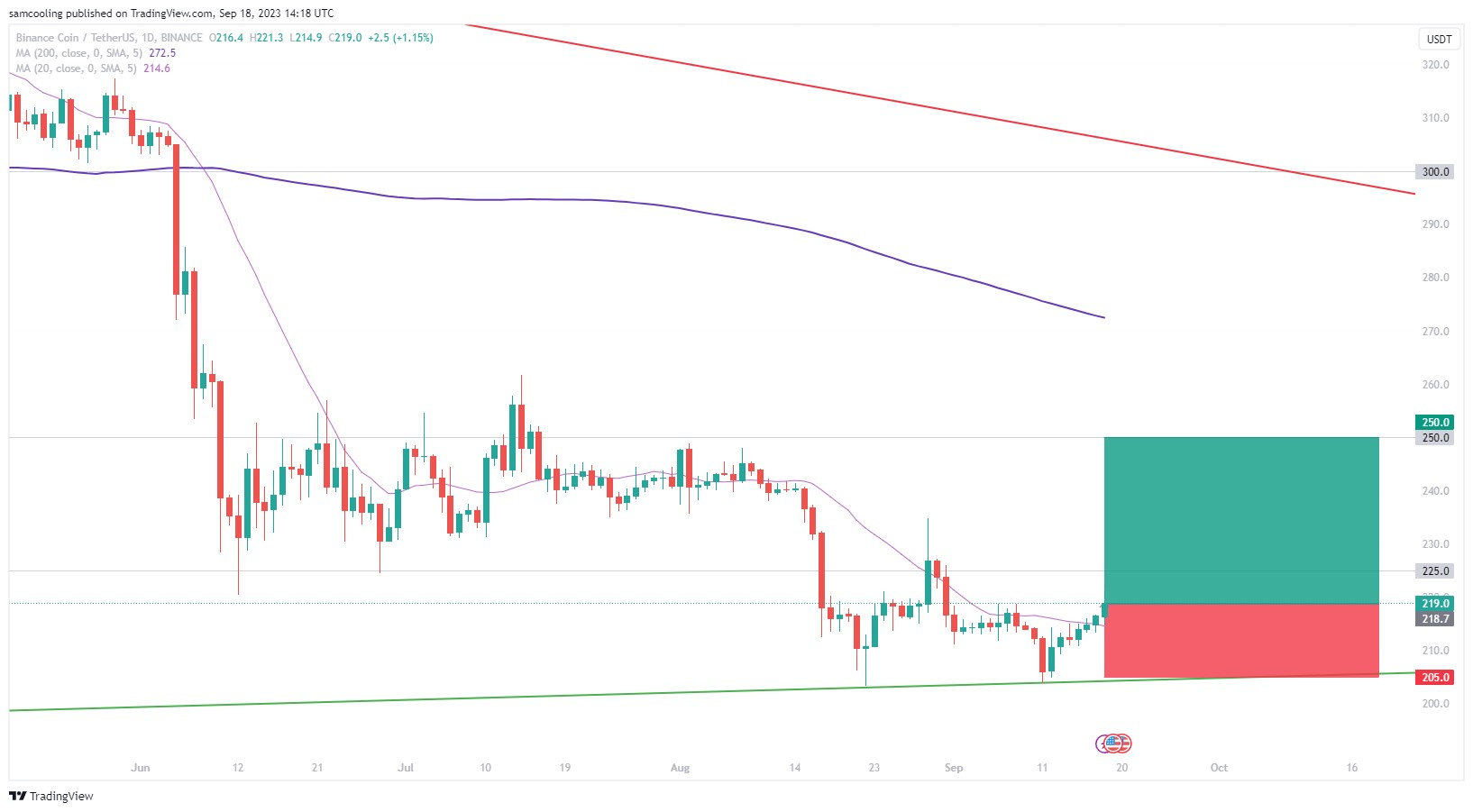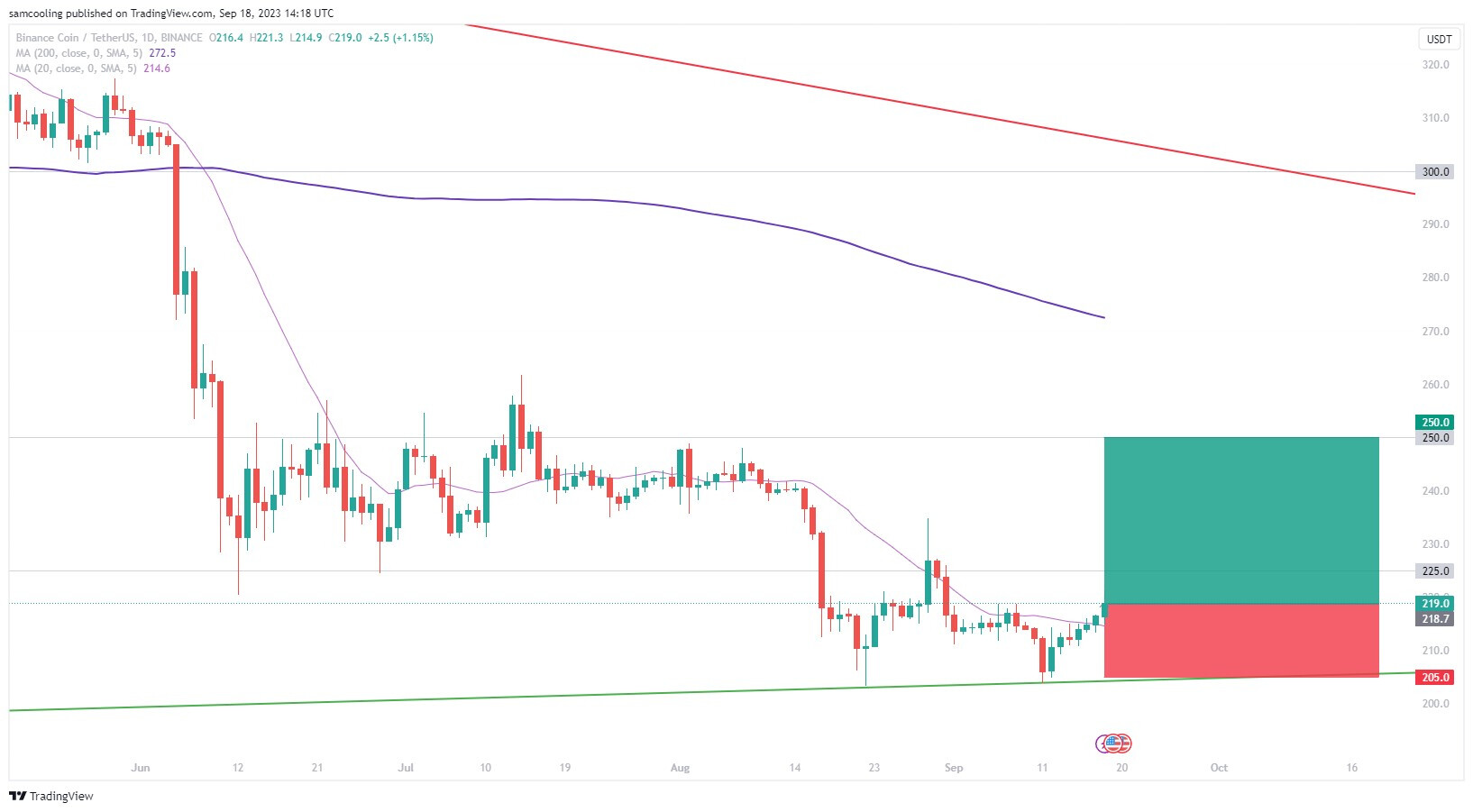 To the upside this leaves BNB targeting a return to $250 (a potential +14.31% move).
While downside risk remains less significant at $205 (a possible -6.26% drop).
This leaves BNB with a risk: reward ratio of 2.28 – a strong entry that suggests it's certainly not too late t buy Binance coin on the short-time frame.
Yet, while Binance battles on against the hostile US regulator, smart money are focused on finding their next big trade with an emerging AI analytics platform that offers the opportunity for retail traders to access market-beating crypto alpha.
Gain Access to Exclusive AI Trading Platform With 17% Bonus – Less Than 2 Days Left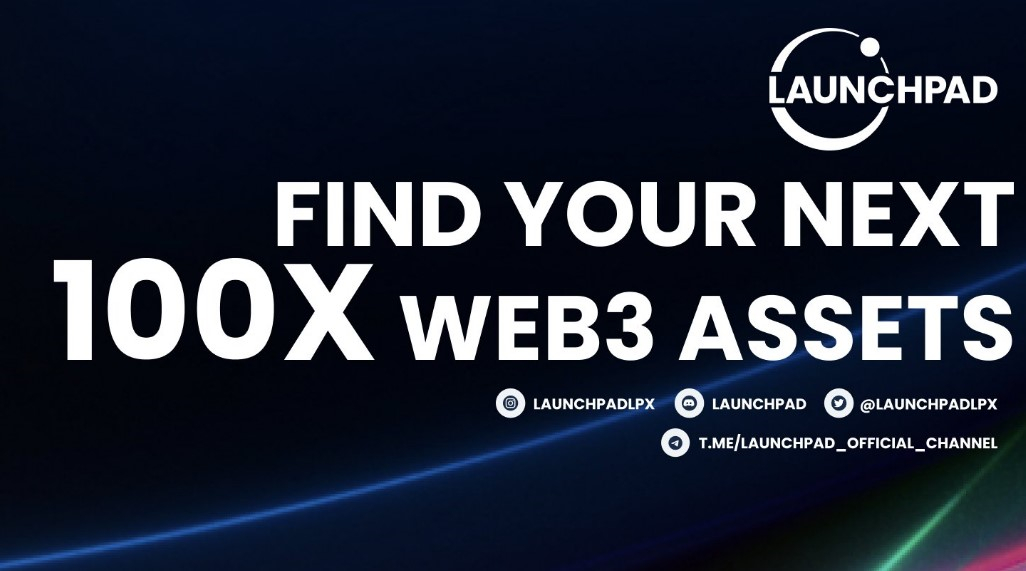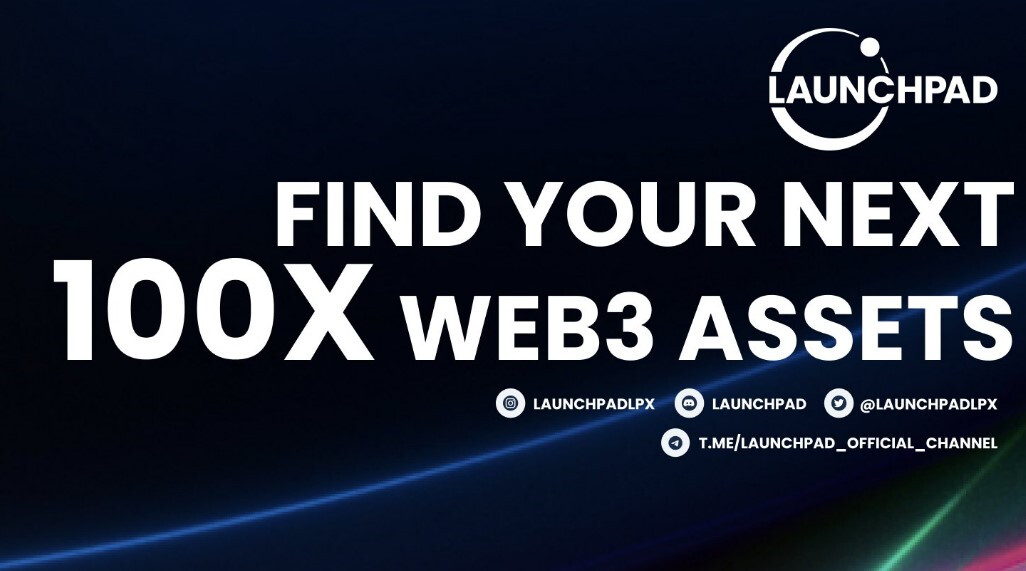 There is less than a day left to buy Launchpad XYZ (LPX), an innovative ecosystem designed to lower the entry barrier to Web 3.0 with user-friendly tools, insights, and analytics.
Whether you're a seasoned crypto user or just starting, this platform offers a range of features, such as NFT discovery, a decentralized exchange (DEX), a Web3 wallet, and utility token analysis.
At the heart of the Launchpad XYZ ecosystem lies the $LPX token – holders who stake a minimum of 10,000 tokens can reap numerous benefits, including substantial fee discounts, exclusive early access to NFT mint whitelists and presales, beta play-to-earn game launches, as well as cool community prestige badges.
The platform's intention to list LPX on major cryptocurrency exchanges is expected to drive significant demand for the token.
Following the introduction of its primary features in Q3 2023, Launchpad XYZ anticipates substantial user adoption.
With its maximum token supply of 1 billion, $LPX is set to launch on crypto exchanges later this year with a fully diluted market cap of $70 million. This makes it a platform to watch in the rapidly evolving crypto industry.
Given its comprehensive suite of features and ambitious vision, Launchpad XYZ is set to break barriers and redefine the crypto space.
As it facilitates an inclusive Web3 ecosystem, the $LPX token is proving itself a promising opportunity for investors. Whether you're new to the crypto world or a seasoned investor, Launchpad XYZ is one platform you can't afford to overlook in 2023.
Explore the latest Web3 presale projects, P2E Hub for gaming, the Metaverse Experience Library, and the Trading Terminal for an immersive experience.
Future developments include a marketplace for fractionalized assets, a Trading Edge Game, and creator tools for brands.
Don't miss out on the opportunity to invest in Launchpad XYZ, a promising project with the potential for significant growth. 
For more information, visit Launchpad XYZ today, also stay tuned with the project Twitter and Telegram to receive all of the latest updates and team news.
Buy LPX Here
.Disclaimer: Crypto is a high-risk asset class. This article is provided for informational purposes and does not constitute investment advice. You could lose all of your capital.